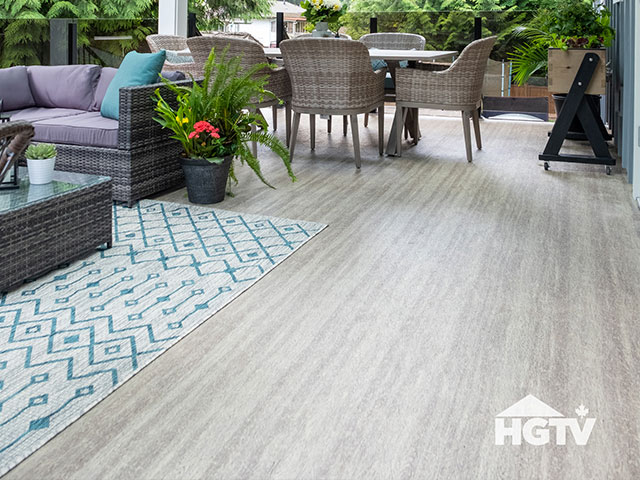 Too Embarrassed to Entertain | HGTV Deck Makeover
Project: HGTV's Worst to First Deck Makeover | Duradek Case History #186
THE PROBLEM – Too Embarrassed to Entertain on Their Unattractive Deck
The homeowner's above-garage deck had fallen into disarray. The surface coating was old and in such poor condition, it was nearly impossible to clean.
The aged coating was at risk of allowing water to leak into the garage below which could lead to costly water damage repairs.
The homeowners wanted outdoor space for entertaining but felt their existing deck was wasted square footage because of the maintenance involved to make it presentable. They were too embarrassed to entertain guests on it in its current state.
The HGTV Worst to First team called on Duradek to provide an attractive, low-maintenance waterproofing deck surface.
Duradek waterproof vinyl would protect the garage below from leaks while providing low-maintenance outdoor flooring in a single product solution.
The DURADEK SOLUTION – An Attractive Deck Surface with an Appearance Warranty
After the previous coating was removed, the deck was re-sheeted with fresh, untreated plywood in preparation for the professional vinyl installation.
Duradek Legacy Cedarwood was chosen for the deck revamp. With built-in mold and UV inhibitors and a 5-year Appearance Warranty, Duradek gave the homeowners the attractive outdoor living space they always wanted.
A combination of facia-mounted and pedestalled surface mounted Topless Glass Railings from Durarail were included to complete the new outdoor living space. (See Case History #185 for details.)
Upon the unveiling of their Worst to First renovations, the homeowners were thrilled with their new low-maintenance outdoor living space — perfect for hosting company. They were no longer too embarrassed to entertain and can now host many gatherings at home on their deck.
JOB NOTES
Not only was the HGTV Team able to give these homeowners their dream deck, but by choosing Duradek and Durarail together, the homeowners have a single source for their deck and railing warranties.
View or download the .pdf version of Case History #186 with project photos and installer details.